Charlottesville Real Estate
NEW! Charlottesville Homes for sale with a Pool
Charlottesville Real Estate Searches by Map & Lifestyle
Visit our new Charlottesville Virginia Blog. It's more than just another real estate blog as it offers you the latest news and information for those relocating to Charlottesville and Central Virginia!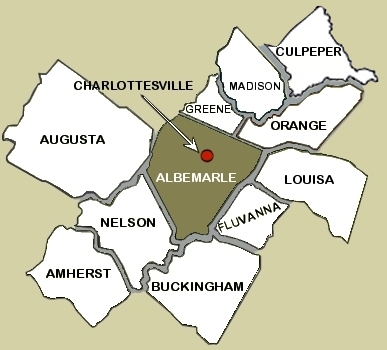 Charlottesville Virginia's Most Recent Real Estate and MLS listings over the last seven days saves you time when searching for your perfect home in Charlottesville! This feature is updated nightly as are all of our real estate listings!

Charlottesville was recently voted the number one most liveable city in the country by Frommer's Cities Ranked and Rated, and much of this distinction is due to the beautiful homes, farms, land and estates that give the area its charm and character.
When one talks about Charlotttesville Real Estate, they are speaking about a seven county area which radiates from the city of Charlottesville proper, starting in the rolling hills of Louisa, Fluvanna, Orange and Buckingham Counties to the east and rising through Madison, Greene, Albemarle and Nelson Counties westward to the picturesque vistas of the Blue Ridge Mountains. Each county has its own special flavor, however all share a rich tradition and special place in the history of our country. I hope you enjoy yourself as you explore further the beautiful homes, land, farms, estates and historic communities that make up Charlottesville Va Real Estate and our site, Central Virginia Properties.
Charlottesville Real Estate Current Trends
Charlottesville Real Estate Market Activity
Charlottesville Real Estate Distressed Market
Charlottesville Real Estate Median Sales Price
Charlottesville Real Estate List to Sales Price
As with most cities, actual land available within the city limits is very scarce. Albemarle County land for sale is more abundant and provides the closest proximity to Charlottesville with commutes ranging from five to twenty-five minutes. There are many developments in which to build your new home or if you prefer more acreage, five to 100+ acre tracts can still be found within Albemarle County. With its rolling pastures and Blue Ridge Mountain backdrop, you should take the opportunity to explore Albemarle land for sale. More...
Madison County, although the closest of all the Central Virginia Properties to Washington, D.C. still maintains its very rural and picturesque landscape. Madison County Virginia real estate provides the perfect escape for people living within Washington, D.C. and Northern Virginia. More...
From the James River to the Blue Ridge Mountains, every turn offers a spectacular view. Nelson County Real Estate provides rural country living in addition to the resort living offered by Wintergreen and Stoney Creek. More...
Fluvanna County is located in the midst of the Virginia Piedmont region between Charlottesville and Richmond. The James River flows along the southern boundary. Fluvanna County real estate consists of the Lake development of Lake Monticello and very rural areas elsewhere. More...
Orange County Virginia Real Estate fits the needs of many people desiring a more rural lifestyle. Orange County is situated equidistant between Charlottesville and Fredericksburg and is within two hours of Washington, D.C. Orange County offers a very pastoral setting with many large farms and estates. A small town environment can be found in the quaint villages of Orange and Gordonsville, which offer many magnificient older homes. If you are looking for a more relaxed lifestyle but not total isolation, you should explore Orange County Virginia Real Estate. More...
Greene County lies to the north of Charlottesville and east of the Blue Ridge Mountains. With the growth in the Charlottesville real estate market, Greene County has experienced rapid development along the Route 29 corridor over the past several years. Greene County is still considered a rural county. More...
Louisa County is conveniently located to Charlottesville and Richmond. Lake Anna, which is located in the northern portion of the county is the major population center. The majority of Louisa County is considered to be rural, although the Zions Crossroads area is beginning to see growth due to being the midpoint along Interstate 64 between Charlottesville and Richmond. More...
Buckingham County real estate consists of the most rural location of all the counties served by Central Va Properties. Two boundaries are established by rivers, the James and the Appomattox. With all the woodlands and rivers, there are plenty of recreational activities to explore. Buckingham provides the most economical land for sale in the Charlottesville, Va area. More...
Popular Charlottesville Area Subdivisions
Dunlora
Ednam & Farmington
Fontana
Forest Lakes
Foxchase
Fox Hollow
Glenmore
Hollymead
Keswick
Lake Monticello
Mountain Brook
Old Trail
Poplar Glen
Reedy Creek
Stoney Creek
Wintergreen

Charlottesville Area Farms for Sale
Albemarle County Farms
Fluvanna County Farms
Greene County Farms
Louisa County Farms
Madison County Farms
Nelson County Farms
Orange County Farms
Search Farms By Acreage
If you are thinking about relocating to the Charlottesville, Virginia area, we will be happy to send you our relocation packet to help you learn more about our beautiful area!

Gayle Harvey Real Estate, Inc.
2025 Woodbrook Ct.
Charlottesville, Va 22901
434.220.0256
1.888.8Va.Land
E-mail us
Licensed to sell real estate in Virginia
Featured Properties
Keswick Estate
Historic Keswick Virginia Estate Home
on 178+/- acres. Offered at $4,500,000.

Madison Country Home
Madison Virginia Compound for sale
on 586+/- acres. Offered at $4,897,000.

Madison County Virginia Farm
Extraordinary
Virginia farm
with custom built home, stables, river frontage and spectacular mountain views. Offered at $3,850,000.

Albemarle County Home with a View
If you want mountain views, visit this
Charlottesville Home for Sale
with amazing Blue Ridge Mountain views and James River frontage. Offered at $1,175,000.

Grand Virginia Plantation
Virginia Estate Home
on 327 acres with James River frontage offered at $1,900,000.