Charlottesville Real Estate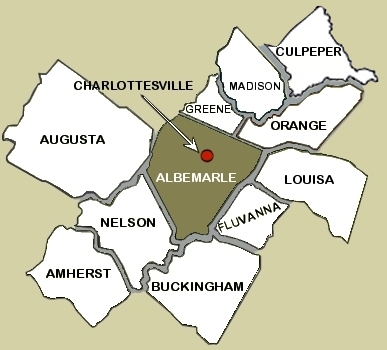 Charlottesville Virginia's Most Recent Real Estate and MLS listings over the last seven days saves you time when searching for your perfect home in Charlottesville! This feature is updated nightly as are all of our real estate listings!

Charlottesville was recently voted the number one most liveable city in the country by Frommer's Cities Ranked and Rated, and much of this distinction is due to the beautiful homes, farms, land and estates that give the area its charm and character.
We understand that you have specific wants and needs for your real estate purchase and aim to make your search as simple and uncomplicated as possible. For this reason we have created several niche websites to help you navigate the vast array of real estate listings. For the historic home lover we offer you, www.CharlottesvilleHistoricHomes.com. If a newer home is more your thing, visit www.CharlottesvilleVaNewHomes.com. Need a lot or land for your new home? Visit www.CentralVaLand.com. Perhaps your new home must have pool or a first floor master bedroom?
Most of the architecture around Charlottesville is very traditional with Jeffersonian and Colonial influences. If you prefer modern and contemporary, then visit www.CharlottesvilleContemporaryHomes.com. Want an eco-friendly home? Visit www.CharlottesvilleGreenHomes.com.
Want to search by Map & Lifestyle? We have that covered too! Other sites that might be of interest are www.CentralVaFarms.com and www.VaFarmsAndEstates.com.
At Gayle Harvey Real Estate, Inc. we have experienced real estate agents and brokers who will listen to your specific criteria for your new home and help you to quickly target the Charlottesville area homes that will fulfil your wants and needs. We will work as your advocate and will show you any homes for sale listed in the Charlottesville Multiple Listing Service (MLS) at no cost to you. The sellers placing their homes for sale in the MLS have committed in advance to pay the buyer agent fees.
Contact us today and it will be our pleasure to create a customized search for you containing your specific criteria. Whenever a new home or property comes on the market matching your specific wants & needs, it will appear in your inbox saving you time from sorting through all of the Charlottesville area real estate listings.
Charlottesville Real Estate Current Trends
Charlottesville Real Estate Market Activity
Charlottesville Real Estate Distressed Market
Charlottesville Real Estate Median Sales Price
Charlottesville Real Estate List to Sales Price
When one talks about Charlotttesville Real Estate, they are speaking about a seven county area which radiates from the city of Charlottesville proper, starting in the rolling hills of Louisa, Fluvanna, Orange and Buckingham Counties to the east and rising through Madison, Greene, Albemarle and Nelson Counties westward to the picturesque vistas of the Blue Ridge Mountains. Each county has its own special flavor, however all share a rich tradition and special place in the history of our country. I hope you enjoy yourself as you explore further the beautiful homes, land, farms, estates and historic communities that make up Charlottesville Va Real Estate and our site, Central Virginia Properties.
Popular Charlottesville Area Subdivisions
Dunlora
Ednam & Farmington
Fontana
Forest Lakes
Foxchase
Fox Hollow
Glenmore
Hollymead
Keswick
Lake Monticello
Mountain Brook
Old Trail
Poplar Glen
Reedy Creek
Stoney Creek
Wintergreen




If you are thinking about relocating to the Charlottesville, Virginia area, we will be happy to send you our relocation packet to help you learn more about our beautiful area!

Gayle Harvey Real Estate, Inc.
154 Hansen Rd.
Charlottesville, Va 22911
434-220-0256
1.888.8Va.Land
E-mail us
Licensed to sell real estate in Virginia
Featured Properties
Virginia Land
Fluvanna County Va Farm
on 238+/- acres. Offered at $1,599,999.
Luxury Home
Albemarle County Va Farm
on 91+/- acres. Offered at $1,499,999.
Va Country Home
Country home in Madison
on 194+/- acres. Offered at $1,995,000.

Grand Virginia Plantation
Virginia Estate Home
on 327 acres with James River frontage offered at $1,800,000.